Mother's Day is just around the corner (May 9th in case you need the reminder) and I think all of our Mothers/Moms/Mums/Guardians/Mother Figures deserve some appreciation, especially during a long pandemic stretch like this. I live in Ontario, Canada and we've been in lockdown since essentially November, so I haven't been able to see my Mom as much as I'd like and I'm sure that's true for a lot of people. Just because we can't see each other in person doesn't mean our Mom's don't deserve a little something special for all that they do. Here are a few simple items or DIYs to help make their day a little more special.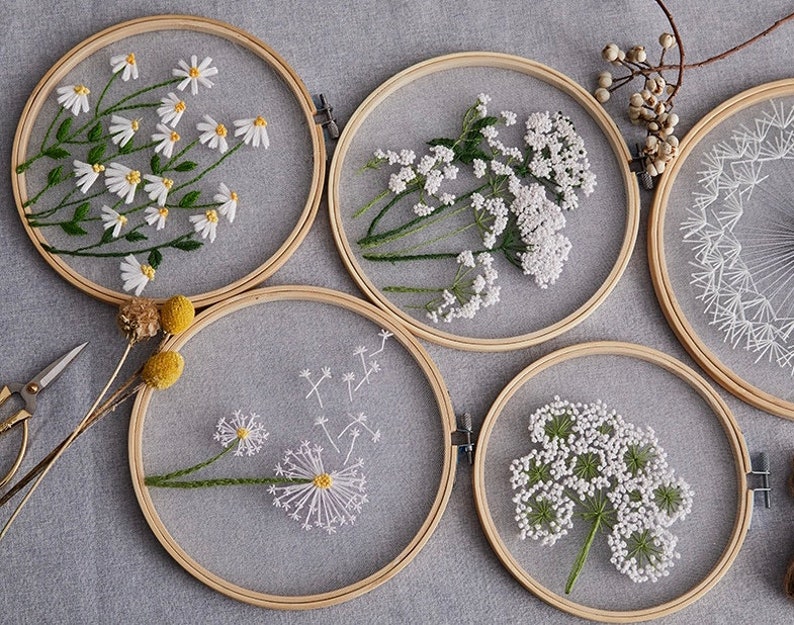 If your Mom is a little crafty (or aspires to be), why not give her the gift of a little project that turns into beautiful art! This embroidery kit for beginners is so lovely, I honestly would buy this for myself or any of my friends, so its a super versatile gift.
Gretchen Rubin is one of my favourite self-help authors – she is just so positive and writes in such an inviting way. When I saw this one-sentence daily journal for mother's I thought it was a perfect way to encourage self care.
Jiggy Puzzles are a brand I've mentioned on the blog before, but they are just too stunning not to add to this list. All puzzle art is created by emerging female artists and shipping is carbon neutral. Yes and yes!
What says a cozy night in more than a clay mask? This green tea mask from Three Ships is sure to make it into your Mom's weekly routine, plus it's free of harmful ingredients and feels super fresh. The price point doesn't hurt either!
If you're looking for something a little more simplistic, with little to no cost, and with the connectivity of a homemade gift – this is it! One of my go-to low waste bloggers is Simply Living Well. She approaches things in a wonderfully natural way and it doesn't make you feel like a low waste lifestyle is unattainable. This herbal simple syrup recipe is a wonderful addition to your Mom's cocktail bar. They can be mixed into a number of drinks and they are so easy to make. Bonus: they look gorgeous.
Fair trade, sustainable, vegan, woman owned – this comfy waffle robe checks all the boxes! Your Mom will love you for this thoughtful gift that is also mindful of Mother Earth.
When Birch Babe gifted me some products a few months back (thank you Birch Babe!!), this whipped body butter was by far the item I was most excited about. I am more than happy to report that it is a dream product that I will buy again and again (although it lasts a while so I'm not even halfway through the jar). It truly feels like your body is a vanilla smoothie, that's the best way I can describe it. Mom will love it, 100%.
Another brand that I continuously post about (because it truly is unparalleled) is Leahlani. This Hawaiian skincare brand is the most unique sustainable brand I've ever come across and every single product I've tried is next level. It's a bit of a budget buster but it is beyond worth it and the products last quite a while. Grab Mom one of these best-selling cleansing oils to add to her daily routine.
Beach season is just around the corner (well, in Ontario – it might already be beach season where you are!), does your Mom know where her beach bag is? Even if she does, could it possibly be as cute as this organic cotton one from Anchal Project?
This is accidentally the second grapefruit scented item on the list, but what can I say I love a fresh citrus scent, it's so uplifting! Also, you cannot go wrong with candles, you just cannot. I love Toronto based brand Lohn, and their new spring line is looking too cute!
As mentioned before, I love Simply Living Well and I finally received her best selling book this past week, I cannot wait to try everything in this book and I'm sure your Mom would too, especially if she wants to reduce her impact on the environment! Side note: I have linked it through Amazon, but I encourage you to support your local bookstores however you can!
Last but not least, you really can't miss with flowers. Nearly everyone loves them and Mom's universally appreciate this gift, I know I would! If you are going to get cut flowers, I highly recommend spending that extra little bit to go through a sustainable, local florist rather than stopping by the grocery store. One of my local favourite's is Sweet Pea's who offer a very transparent look into how they source their flowers and what makes them eco/socially responsible.
Did this list give you some inspiration to give a sustainable, local, ethical Mother's Day gift this year? I hope it did! Head to my Instagram or leave me a note in the comments on this post. I appreciate anyone who has taken the time to visit my blog and interact with me on any platform! Love you all, Syd.